It has been a year...
Spring has sprung. The trees are budding and the flowers are beginning to bloom. When I see the flowers I am reminded of my friend. Emma was born into a world that hated her. She received very little education and worked every day that she could from the time she was able. That is every day that wasn't her "day off." On those days she loved to fish.
She was the granddaughter of slaves. I moved to a small town in the Deep South and it wasn't long before God gave my family a new friend in Emma Lou. I could recount all of the things that I learned from her, but you would not hang out here long enough to hear them all.What I take as the most important lesson that she taught me is not to hate. She told me at a time when I really needed to hear it:
"Don't you hate. Even if'n theys done you bad, don't let'm make you hate.That'll rot you up on the inside."
The first time I met "Ms. Lou" she was sitting on my carport near my back door. But she would not come into my house. She and my wife were working the day lilies for the town's garden club. I came home to have lunch with them. It was a strange lunch. We had to sit in chairs by the back door because she would not sit at our dinner table.
Over time Emma became our friend. I am proud to say that Emma sat a my dinner table with my family many times before she went to be with her Jesus. She took my wife and my children fishing. We took her to the movie theater for the first time.She showed us how to make cornbread dumplings in greens. She liked to hear Johnny Cash sing hymns. She loved to sing Amazing Grace.
In late January of 2012 a young man showed up in our yard. He wanted to pitch his tent. We put him up in our spare bedroom. He was walking across America listening to people's stories. http://walkingtolisten.com.
The morning came and he asked me if there was anyone whom he should talk with before he left our area. I immediately told him, "Emma Lou Dailey." Ms. Lou was in the hospital at the time fighting off a complication from the cancer that eventually claimed her life. I remember sitting in the hospital room with Andrew Forsthoefel as he talked with Emma and she sang for him. He asked her if she had any advice for a young man just starting out in life. She said without hesitation, "Give your heart to Jesus and always do what is right." It would be hard to find better advice.
On April 10, 2012 Emma went to be with her Jesus. She was 91 years old. I was given the honor to speak at her homegoing service.
I received an email from Andrew today. He has completed his walk. He has done some amazing stuff with the 85 hours of field recordings. You can listen to the whole radio essay on Transom.
Out of the hundreds of people he listened to, I was blessed to hear that my friend Emma Lou Dailey made the cut. Here is the excerpt from his hour-long radio essay. I hope that you will listen to this 5 minute clip and remember Ms. Lou.
I credit the Holy Spirit and Emma's advice to me on that different occasion for my not being riddled with anger and hatred today.
---
Walking Across America: Advice for a Young Man, Emma Lou Dailey excerpt
---
Walking Across America: Advice for a Young Man whole radio essay on Transom.
---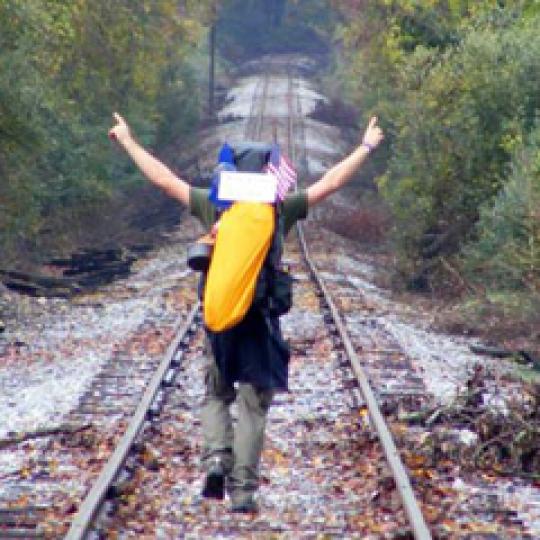 Andrew Forsthoefel. Photo by Therese Jornlin, Andrew's mom. Chadds Ford, PA.
---